Seth Rogen, along with fellow screenwriter and friend Evan Goldberg, recently launched their cannabis lifestyle brand called Houseplant. Will the comedian turned entrepreneur become a legitimate player in this budding industry? Also, how many weed puns can I fit into one blog post?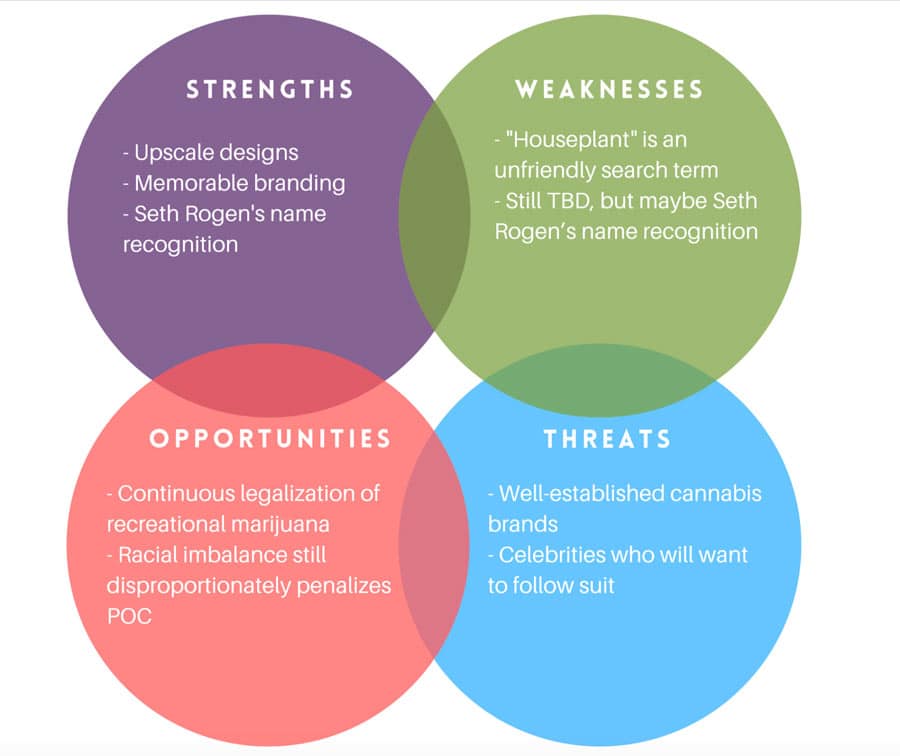 STRENGTHS
Upscale Designs
Don't get me wrong, I like Seth Rogan. But when he pops up on my screen, I have to admit that the word "sophisticated" is not the first that comes to mind. That's why I was pleasantly surprised to see the level of maturity in his "house" products, like the table lighter and ashtray set. According to the Houseplant website, the set "features a deep well to keep ash from flying away, a notch-like rest, and a saucer with three uses…The set also comes with a matching vase for flowers". These products are not only well thought-out with a smoker's convenience in mind, but also seem to be doing a great job of challenging stereotypes; those who enjoy cannabis are not the airheaded hippies that the movies will have you believe they are. They're just as worldly and successful as any other red wine drinking, middle-aged white woman.
Memorable Branding
Houseplant's two "plant" products, Sativa and Indica, come in sleek, bold tins. Their bright fuschia and orange hues are cheerful, friendly and enthusiastic, while the minimalist designs give off high quality impressions. Also, they're stackable. Enough said.
Seth Rogan's Name Recognition
The actor has been a household name for awhile, so it comes at no surprise that his new venture has already received a ton of attention in the press. Outlets such as LA Times, Forbes and CNN covered Houseplant before it even launched. What's more, Seth has built up a very strong association with cannabis over the years. He's never been one to shy away from the topic, and is regularly seen smoking in his movies. Seth Rogen knows cannabis like Kylie Jenner knows a lip kit and 50 Cent apparently knows electrolyte enhanced water. His long-cemented authority in the industry is sure to help bring in some green to the company.
WEAKNESSES:
Unfriendly Search Term
Having strong SEO (Search Engine Optimization) is important for any business because it's how they get seen! If you're trying to sell a product, you want to show up on that coveted Page 1 of a consumer's Google search; people have short attention spans, and only about 25% of internet users go to the second page of search results.
The name "Houseplant" is twofold: products for the home (house), and strains of weed (plant). It's clever and simple, but it's already a commonly used word. To be blunt, this could pose a problem once the initial hype dies down. While the brand's Instagram account currently holds the top spot on Google, its name doesn't occupy every spot on the page. Rather, when I Googled "Houseplant", the knowledge panel to the right features Wikipedia's definition of the word, and at least half of the search page is dedicated to a local search for houseplants around the city.
Still TBD, but maybe Seth Rogen's Name Recognition
As I explained before, Seth's fame has done wonders for Housplant's PR- how often do cannabis founders get to over ten minutes on Jimmy Kimmel to promote their brand? If the products don't deliver, however, people WILL find out about it. Many articles will be written about it, his Twitter will be flooded with trolls, and his reputation as a business owner could go up in smoke.
OPPORTUNITIES
Continuous Legalization of Recreational Marijuana
For now, Houseplant is only available in California. But as more and more states become weed-friendly, there's a huge potential for growth throughout the country. On April 1st, 2021, New York State officially legalized marijuana. According to the New York Times, the bill "moves toward the creation of a potential $4.2 billion industry that could become one of the nation's largest markets." Once regulations are in place, selling marijuana will soon be legal as well. And it looks like Seth already has his eye on this potential market- he recently liked a Tweet from one very articulate user who wrote "Yo @sethrogen now that bud is legal here in New York, do you see yourself bringing the #houseplant brand here at some point? (I'm dying to try that indica)."
Racial Imbalance Still Disproportionately Penalizes POC
According to Insider, in 2018, despite making up only 31% of the population, Black Americans and Latinos accounted for nearly half of over 600,000 weed arrests. Not to mention that the exploding cannabis industry is overwhelmingly run by white owners, and operating costs make it even more difficult for POC to succeed in the industry. Assuming Houseplant will prevail, Seth has an opportunity to make sure his team does not become another statistic. This would not only influence other cannabis company owners to hold themselves accountable, but also earn Houseplant major corporate responsibility points. Upon researching, it seems the Houseplant crew indeed plans on addressing these issues: "We will always use our platform to educate people about the devastating history of the War on Drugs and help end the senseless, racist cannabis laws that, despite progress, still exist today. We won't stop until every adult in America is able to enjoy cannabis without fear of being labeled a criminal. We are working towards a more equitable future for the industry by supporting BIPOC-owned businesses and striving to make our own company a diverse and inclusive place to work." Here's hoping he follows through!
THREATS
Well-established cannabis brands
There's a plethora of cannabis companies that have been around for a long time and already earned the trust of consumers. Green Thumb Industries, for example, became the first American cannabis operator to generate in excess of $100 million in a quarter" in 2020, says Forbes. Houseplant will need to expand its product line and keep up the stellar marketing if it's going to weed out the competition.
Celebrities who will want to follow suit
Is it just me, or do celebrity-owned liquor brands keep popping up every other week? Over the last 10+ years, so many have been promoted that it's hard to keep up. Sure, Seth isn't the first famous person to create a pot brand, but the market is still not as saturated as wines & spirits. When it comes to selling pot, Seth could possibly be the Puff Daddy of cannabis, but it's only a matter of time before the Channing Tatums show up with their own lines (yes, Channing Tatum has a vodka brand…who knew?). With legalization on the rise throughout the US, it's possible that other ganja-loving superstars like Whoopi or Brad Pitt will want in.